---
Includes 6 dies that have stitch lines inside and outside of the cut line! So not only does your die cut piece have stitch lines, but the negative space does as well!

Approximate Measurements:
3" x 5 3/4"

2 1/2" x 5 1/4"

2" x 4 1/2"

1 1/2" x 4"

1" x 3 1/2"

1/2" x 3"
Kat Scrappiness custom dies are high-quality steel and are compatible with most die cutting machines!   
Designed by Kat
KAT'S DIE CUTTING TIPS
No matter what die cutting machine you use, I suggest using one plate as the bottom plate and one as the top every time you die cut.  That way only one plate gets cut into.  In fact, I wrote on my plates with a black sharpie "TOP PLATE" and "BOTTOM PLATE" so I don't' mix them up.  Each time you die cut you will want to flip and reverse your plates to keep them from warping.  Warped plates do not cut well at all.
Background dies and dies with straight edges should always be placed onto the plates at a slight angle (diagonal). This way when it goes into the machine, the corner goes in first and it will not only give you a better die cut, but it will also keep your die cutting machine good working order.
When die cutting an intricate die, you will always want to use new, un-warped plates.
ALWAYS cut your die with the cut side UP, especially with intricate dies. This will apply the most pressure from the rollers to the blade of the die and not to the back of it.
If you are having trouble die cutting an intricate die, and you are using a Sizzix Big Shot, use the Sizzix Precision Plate. It's a great tool for intricate dies.
If your die is not cutting all the way through the paper and you've used all of the tips above, add a metal shim such as this one from Lawn Fawn.
If you run a die through and it doesn't cut well, before you add a shim, make sure to remove all of the paper outside of the die before you run It through again. It will help you get a cleaner cut on intricate dies.  (Thanks to my friend Gina Marie for this tip!)
---
Share this Product
Customer Reviews
03/25/2021
Amy S.

United States
I recommend this product
Fabulous!
These mini slimline dies cut so well and really give your projects a lovely finished look! Definitely recommend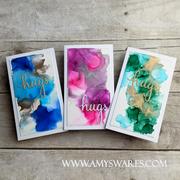 02/13/2021
Gloria S.

United States
Fabulous cut! Great Die.
Fabulous! They cut very nicely. Easy to use.
---
More from this collection